Service and Parts Promotions
October 2015
Winter Tyres are ON SALE!!! 
This winter, help prepare your Porsche for rain, snow, and ice with wheel and tire packages. Tires are one of the most critical components of your vehicle for all types of winter weather including snow, ice, and cool temperatures. Many highways require mandatory winter tires this season. Road-checks will be in effect. See us today for winter tires and ensure you and your family are safe this season!
HIT THE ROAD WITH CONFIDENCE. YOUR SAFETY IS OUR PRIORITY.
Things you need to know:
All Season Tires harden up in the winter and lose traction.
Every safety feature equipped on your vehicle relies on tire grip and performance.
Winter tires are constructed from compounds that retain their flexibility in cold weather below 7 degrees Celsius.
In order to move slush, snow and water off the tire as quickly as possible, winter tires have a unidirectional, V-groove tread design to remove slush and water off the tire as quickly as possible.
They extend tire life, ensure stability and handling, when installed in sets of four and the alignment checked once a year.
Winter tires are now a requirement on some highways around BC. You could face a fine of $120 for having improper tires.
WINTER WHEEL & TIRE PACKAGES starting at…
CAYENNE                         $2,850
PANAMERA                      $3,225
911/991                             $4,480
911/996/997                       $2,260
CAYMAN                           $2,450
BOXSTER                         $2,260
Purchase and install a set of winter tires before they are all gone and be sure to ask us about seasonal tire storage. Call today – 604. 738. 3911, or email chad@weissach.com.
---
Fall Service Special $199
Fall is the best time of year to have your Porsche serviced. After a warm summer of enjoying your car on the open road, let us take care of your toy for you and ensure your Porsche is ready for the winter months, or all sorted before tucking it away until the spring.
We start it all off with a 20-point winter safety inspection, in addition to which we will perform an engine oil change and filter replacement, check your air filter, pollen filter, lights, tires and set pressures, wipers, washers, all fluids, read out fault memories and conduct a road test to assess operability. We'll finish it all off with a hand-wash and vacuum so that your Porsche will really shine! Email us today to book your appointment.
OFFER EXPIRES November 31st 2015
*Does not include parts or applicable taxes
Christmas Stocking Stuffers
Battery tenders
Battery tenders are a must-have for anyone storing their cars through the winter months.
Regularly priced at $119.00, they are now on sale at $109.00 installed, while the promotion lasts.
*Offers expire November 20th, 2015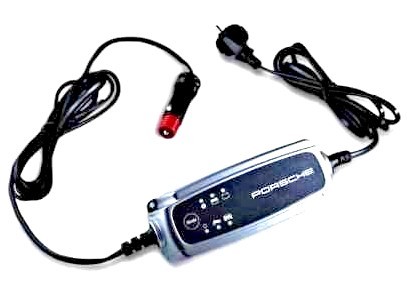 Porsche Gear for your Favorite Petrol Head
We have lots of great stocking stuffer ideas in our showroom, including lots of branded merchandise for your favorite car fan. Visit us and have a look at what have to offer.