'80s
We knew there was a real need for Porsche service on Vancouver's west side in 1980 because we were Porsche owners and enthusiasts ourselves. The Porsche community recognized our passion and we were booked out weeks in advance, often having to work outside 'California style' just to accommodate the overflow.
In 1982, we moved to a second shop with four bays, a glass-walled engine assembly room, a small boutique area, and a parts department the size of an average bedroom.
By 1985, we had five employees and business was booming. We took a location four times the size at 7th & Yukon. Having the space for a 5-car showroom gave us a strong sales presence and we now had three technicians in the workshop.
In 1987, we really expanded our business in sales, service, and parts to become known as the "Porsche Authority" in Western Canada.
'90s
In 1992, we were offered our first franchise and became Western Canada's dealer for Lotus Cars.
When 1996 arrived, it was time to build our own store on Vancouver's west side. Our new location and showroom introduced us to a new generation of Porsche and Lotus owners.
We were now running on all cylinders with a service department of master technicians, a full parts team, our sales force, and 8500 square feet dedicated to the cars we love.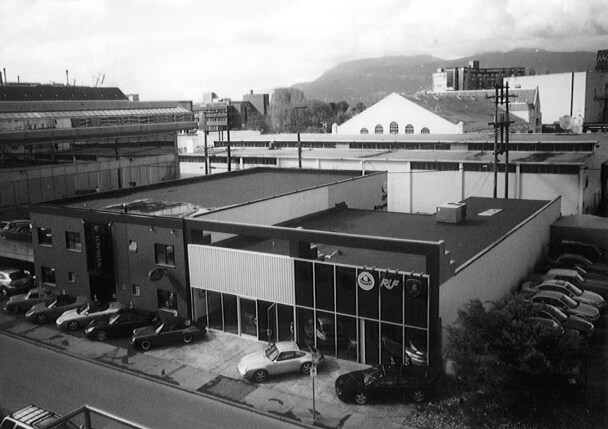 '00s
We renovated in 2001, expanding our showroom. It was also the right time to focus on positioning the unique offer and dedicated commitment to our brand as a premium vehicle dealer. The thrill of motorsport was drawing us back and we entered endurance racing with our '88 Carrera and won many titles. Our competitive spirit was still alive and strong.
In 2003, we ran the same Carrera at the Whistler Porsche Club Autocross and road race. Motorsport is a big part of our culture and remains a passion among our staff today. Since the early days, we've also taken first place at the Whistler in GTO and the BC regional Solo 2 Championship in A/SP with our Carrera.
Another perfect fit was introduced to our showroom in 2004 when we were appointed the official Lamborghini Dealer for Western Canada. We successfully reintroduced the Lamborghini brand to Vancouverites after a thirteen-year absence. We also had the privilege to represent the well-known German Manufaktur RUF for the Canadian market, and we continue to represent them.
In 2006 and 2007, our commitment was to invest sponsorship in our communities and at the local PCA Chapters. We also continued enhancing our sales, service, and parts for Porsche, which is a fundamental part of our business. We also moved our Lamborghini store to what we thought was a temporary location 2 building down and set up a standalone store to represent the brand appropriately.
Our commitment to investing in our communities and at the local PCA Chapters in 2006 and 2007, saw us successfully sponsor countless events that we thoroughly enjoyed. We also continued enhancing our sales, service, and parts for Porsche, which is a fundamental part of our business.
In 2009, we were invited to represent the prestigious Bugatti brand. It was an opportunity we couldn't refuse.
'10s
We opened the 'Collezione Automobili Lamborghini' store in Richmond's Aberdeen Mall in 2010. This Lamborghini boutique became the third store of its kind in the world after LA and Beijing. It's a must-visit for aficionados.
We had also found a new home for the Lamborghini store and bought and refurbished a third of the block across the street to firmly establish the brand in a spectacular store that has really allowed us to showcase automobile Lamborghini. Truly a WOW statement and we celebrated in grand style Sept 2013.
In the summer of 2015, we opened our brand new Lamborghini store on heritage drive in Calgary. Architecturally stunning on two-floors and 20,000 sqft, this represents a new standard for all of us. The lower floor is dedicated to the Lamborghini brand and upstairs we have a mixed collection of premium pre-owned sports cars along with our Weissach brand of perfect Porsches. All this is supported by a full parts and service team who are committed to the same experience you have come to rely on. We will also represent the lotus, Koenigsegg and Ruf brands here.
The next two years ushered in the Hypercar brands to our business and first was the opportunity to represent Koenigsegg in Canada. Christian and his team are amazing and the cars are well into the future. We also moved our lotus business to the iconic original lotus location at 3rd and fir street. This allowed the marque to have its own identity and is supported by a selection of sports and luxury automobiles.
These last five years have scaled up our business and we have acquired a talented team – keeping the original brand values intact and as 2020 approaches, we will celebrate 40 years of the Weissach Brand and we are anticipating a celebration you won't want to miss.
We are a socially responsible company, participating in worthy charitable causes, donating both time and money while giving back to the community that has supported us. Environmentally, we are very aware of our responsibility and adhere to the strictest policies. We've always believed that reinvesting in our people and facilities creates an environment of fun and excellence that provides the right tools to run perfectly.
Next Generation
"For many, the pandemic has been an inflection point. It has forced us to stop, reflect and re-evaluate our priorities and our path forward. 
I realized that I had an opportunity to return Weissach to its humble motorsport roots and to refocus the brand to include community giving, a community that I love so dearly. But more on that later...
Over the summer OF 2021, I transferred ownership of Lamborghini Vancouver, Lotus Vancouver and RUF Canada to the GAIN Group. The GAIN Group has now assumed responsibility for these brands and the 1720 West 2nd Avenue and 1918 Fir Street store locations. I also transferred ownership of Lamborghini Calgary and Lotus Calgary to Grand Touring Automobiles. Grand Touring has also assumed responsibility for Koenigsegg Canada, Bugatti (Western Canada), Pininfarina (Western Canada), and Rimac.
It has been my great privilege over the past four decades to nurture a client-centric business focused on supporting these brands. I'm proud of so many moments in the last 40 years; watching several generations of Lotus Cars adeptly manoeuvre asphalt across the Lower Mainland; introducing the Murcielago to Vancouverites more than 18 years ago and the ground-breaking generations that we have welcomed since; and 25 years of seeing RUF automobiles turn heads. We changed the game with the introduction of the supercar and hyper cars world with the introduction of Bugatti and Koenigsegg to Canadians, we were also the first to embrace hyper-Electric with Pininfarina and Rimac.
Over 40 years ago, we established Weissach to be the destination for Porsche enthusiasts across the Lower Mainland. Our vision was simple: source cars that we love, provide expert and surprise-free service, always put our clients first, and be honest in everything that we do.
It's a humble vision that I've held sacred as our business grew and as we took on responsibility for representing some truly spectacular supercar brands.
A special mention must be made to my team, past and present. I'm thrilled to tell you that they remained with me at Weissach and will continue to be dedicated, professional and focused on making your experience exceptional. We've always done it our way, by placing an unabashed focus on cultivating relationships and ensuring that our dealership always remains a place that you can be proud to take your business.
This is what you can continue to expect from me when you next visit Weissach at 1757 West 2nd Avenue. You'll continue to find the best team in town, providing unparalleled independent sales and service for Porsche automobiles.
I have mentioned community giving and I will address this with more detail at a later date. For me, it is time to give back and support underserved communities.
We've never been your typical car dealership – and that's certainly not going to change.
I look forward to sharing more over a warm cappuccino the next time you pop into your store."
Asgar Virji | President & Owner